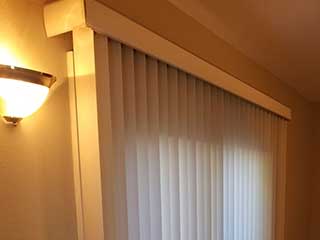 Normal windows can utilize all sorts of blinds. The majority will have regular, horizontal vanes. The classic choice. With larger windows, however, and sliding glass patio doors or other big glass openings, you have a better choice. Vertical blinds make for a very favored covering option for window walls and glass doors. Their different vane structure makes them great for big surface areas, letting you have easy light filtering methods without overbearing the frame. Looking to get vertical blinds custom made for a Danville area property? We've got a range of choices for all budgets, with different materials and designs to go with various décors.
Why Vertical Blinds?
The vanes of each blinds set determine how much sunlight, if any, streams inside. With regular-sized windows, blinds that have horizontal vanes can do an adequate job. With larger surfaces, however, like window walls, for example, using horizontal vanes can present some problems. Too long vanes will create a pull-down effect at the center. This can cause them to start bending after a while. With vertical blinds in your Danville home, though, the length of vanes remains manageable. This is because the whole setup is essentially turned on a 90-degree angle. This makes vertical blinds for sliding glass doors and window walls a very popular choice. They do the best job of covering such large openings without sustaining quick wear and tear or negatively affecting the décor.
Top Danville Motorized Vertical Blinds
Just because they're built differently, doesn't mean they can't offer the same wide range of features. Want to operate your window treatments with a remote control? Our motorized vertical blinds will let you do that with ease. In today's day and age, using the classic remote control handset or wall switch are still viable options. But you have other, more high-tech solutions as well. Get custom motorized vertical blinds with Wi-Fi installed and use your smartphone to open or close them at will! Whether for office spaces, living rooms, or bedrooms, motorized vertical blinds do their job reliably day in and day out. And you can choose more than just remote control methods. You also pick the power source. Get electric motorized vertical blinds wired to the main electrical network of your Danville home/business or installed with battery packs. Different options present different benefits, so the best way to choose is to consult with one of our professionals.
Vertical Blinds With Curtains
Worried about lessening the décor? You always have the option to combine vertical blinds, motorized or manual, with curtains and drapes. This combination of window treatments makes it easy to elevate the décor of any room while also improving utility. The curtains will add a lavish and elegant look, while the vertical blinds give you the effective sunlight filtering option, which you can adjust as you see fit.
Free Quotes on Custom Vertical Window Covers
Turn to Danville Blinds & Shades for free estimates on vertical blinds from wood, metal, vinyl or other choices. We offer full customization in every aspect, from the remote control methods to materials, colors, and designs. Call or use this website's online scheduling system to arrange a free consultation at any Danville home, business or other establishments. We also service nearby bay area cities, so feel free to contact us from any local region.