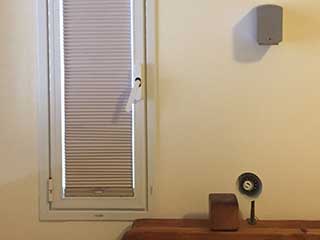 Let Danville Blinds & Shades assist you to discover the best new set of window coverings for your windows! Between our thorough experience and free consultation, you'll have no trouble finding what treatments will take care of all of your needs. Venetian blinds are one of the many options to choose from and have been used for many years, so you can count on them staying in style! You can read more down below concerning the materials and some of the Venetian blinds types available:
Lovely Wood and Faux Wood Venetian Blinds
There's no better choice than wood Venetian blinds if you want to impress! Whether you're looking to add an air of elegance to your office, or to wow guests in the living room, wood Venetian window coverings will have no problem achieving both. They automatically give any space a refined aesthetic, and we'll help you match the wood staining to the area. If you'd like the same look for a more affordable price, faux wood Venetian blinds are available as well. They also require less maintenance, which can be very helpful! Many Danville windows flaunt faux wood Venetian blinds as a decorative and functional shading solution.
Danville's Custom Motorized Venetian Blinds
Do you have a smart home system? Then it's time to get your window treatments connected to it! Motorized Venetian blinds can connect to your smart home system, which will adjust the coverings for you accordingly. This means that you won't have to do a thing for your motorized Venetian blinds to close when too much heat and light is coming in from direct sunlight, as your smart home system will note the temperature and take care of it for you! Then, they can open again when the lights are set to come on when you get home. It'll help to streamline your lifestyle in no time!
Metal Venetian Blinds and More Choices
Maybe you're not looking for anything too fancy, and simply want treatments that get the job done. We can do that too! Metal Venetian blinds are simple, and while they're not the prettiest option, they are completely affordable. This makes them perfect for businesses where the main concern is cost and efficiency. Aluminum is also cost-effective, and long-lasting too. Is ease of cleaning what you care about most? Our vinyl or PVC Venetian window treatments make it as simple as a quick wipe down. Our Danville Venetian blinds experts are here to go over all the options with you!
Rest Easier with Blackout Venetian Blinds
If you take the graveyard shifts and have to sleep during the day, the best thing you can do is get blackout Venetian blinds for your Danville bedroom! These will completely darken your room, no matter how bright the outside light is. We make each blackout Venetian blinds set according to the specifications of your windows as well, so there won't be any gaps or cracks to worry about. From being able to take a nap more easily, to helping sensitive sleepers get a better night's rest, these are the best blackout window blinds for the job. Call Danville Blinds & Shades today to schedule a free consultation at your local address.