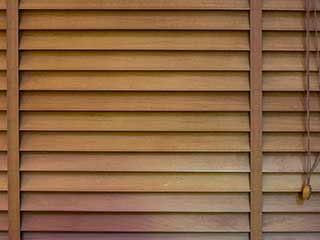 Are you interested in the look of wooden blinds, but not the price or upkeep requirements? Danville Blinds & Shades can help you with something that looks as elegant but without the drawbacks. Faux wood blinds look lovely, but are more affordable, and don't take as much maintenance. Curious to find out more about them? Take a look at the information provided by our experts below:
Are Faux Wood Blinds Right for You?
Faux wood may sound questionable, but it looks the same as real wood! Actual timber may be beautiful with its natural grain look, but it has downsides. It's certainly on the expensive side of things when it comes to window coverings, and they're also weak when it comes to high humidity. Moisture, in general, can harm real wood treatments, so frequent treatments against this are a must. Wooden blinds also need careful cleaning, rather than a quick wipe down. Faux wood window treatments are waterproof, so there's no risk of molding or swelling. They're less costly too. You can create the same aesthetic for your home but without all the trouble. The only disadvantage is the natural insulating quality that real wood has. But that can become trivial with some blinds insulation and cellular shades or curtains.
Faux Wood Blinds For Danville Kitchens
The refined and warm aesthetic of wood window coverings suits the décor of kitchens all over California! However, real timber is a risky choice. Between steam, and the risk of liquid or oil splattering on them and doing harm, it's likely that your real wood treatments wouldn't last long. And they'd be hard to clean off too! That's where our faux wood blinds (waterproof) can become incredibly useful. This way, there's no concern of damage occurring while you cook. And if something does get on them, you can wipe them off without an issue. You get the lovely style, and ease of maintenance, all in one package.
Expertly Made Imitation Wood Window Blinds
Our professionals have years of experience helping customers just like you find the right set of window coverings for their needs! We'll work with you to custom make your blinds according to your wants and taste. You get to choose the wood-like staining that will complement the space, and our team will assist you to decide on the material. Regardless of what sort of faux wood blinds you pick, they'll feel lighter and more durable than real wood. This makes them excellent for homes with kids or pets, as there's no risk of splintering!
Best Danville Blinds Source
With our local experts creating new window blinds, wood, faux or otherwise from scratch, you know you're getting beautiful window treatments that offer the best bang-for-your-buck! The Danville Blinds & Shades professionals measure each window and make the blinds custom to those dimensions. That way there are no cracks around the outside. Your custom made faux wood blinds will effectively become blackout window coverings to completely darken rooms when you need it! We offer free consultations, and estimates as well, so reach out today to get started on your next window treatments!