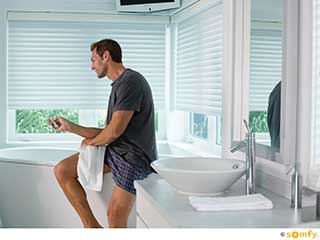 Windows and outdoor spaces both benefit a ton from some good blinds or shades. With motorized blinds like Somfy's, that utility becomes even greater! These motorized blinds can connect to home networks, smartphone apps, or smart digital assistants, giving you a much more reliable tool for property care. Somfy motorized blinds are silent, reliable, and also completely open to customization. Get a free consultation visit any home/office in Danville or nearby areas to have our experts help you figure out what style, color, and materials you want for your motorized smart blinds or shades. Estimates come without fee, and we'll install your custom automatic window treatments in any residential or commercial establishment!
Classic Motorized Blinds
Sometimes, the best way to use modern technology is by applying it to timeless aesthetics. Take the recognizable look of Venetian blinds or rolling shutters, for instance. Put a set of these vinyl or wood panel blinds on a Somfy smart control system, and you get an old-world charm with silent, automatic operation. With brightness or heat sensors to plug your computerized blinds into, they'll even adjust on their own to protect your furniture and minimize your AC/heating costs. The protectiveness that makes these types of window treatments popular is only increased by automation!
Somfy Blinds and Window Shades
Not every window in Danville calls for bare panel blinds or rolling shutters. Some of them benefit more from the airy aesthetic of shades and draperies, and even panel blinds can look better with a sheer shades layer. From Roman shades to just a thin solar fabric layer over some wall window vertical blinds, we'll customize a Somfy shading solution that's just for you. Go with motorized blackout shades, and you get maximum sunlight and privacy protection with minimum bulk!
Outdoor Property Needs Shading Too
Patios, pergolas, and porches, oh my! Somfy motorized shading includes outdoor coverings and canopies for all of the above. Slap some of these shades on the edge of a patio roof, and you get protection from the sun and rain from a broader range of angles. With a motorized pergola canopy, you can turn that space into an open sunbathing deck or a comfy, enclosed booth. The wireless controls and onboard batteries of Somfy products lend themselves easily to outdoor shading.
Somfy Blinds Installation In Danville
Looking for new smart blinds to add to your Danville area property? The consulting and quotes are absolutely free! Choose your style, decoration scheme, and features, and we'll get the dimensions down and start manufacturing! Our services include custom-making and install your new Somfy motorized shading solutions per your specifications. Give us a call and arrange for a free estimate!