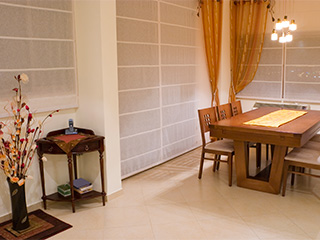 Famous for their stylish design, Roman shades offer a versatile range of choices when it comes to furnishing windows. While they also bolster the utility of any room they're installed in the way most window coverings do, Roman-style shades offer a unique elegance that's hard to rival with other shading options. Danville Blinds & Shades offers an excellent range of custom Roman covering options. For homes and businesses alike (anywhere near this part of the Bay Area). With a free estimate from our experienced experts, you're guaranteed to find beautiful Roman shades for your home or office windows.
Many Roman Shade Styles
The diversity of designs that these pleated coverings come in make them a fantastic addition to practically any residential or commercial room. You can go with a stylish pleated Roman shade choice, which makes for a classically appealing look. Or you can go with any of the many other designs, like relaxed, fishtail, or even flat Roman shades. Different interior décors will need a different look to enhance them. Good thing our custom-designed Roman shades can offer you precise interior design matches at the most affordable prices in Danville.
Blackout Roman Covers
One can think of many reasons why blackout options are so important with window shades. For Danville bedrooms, the ability to completely darken the room is crucial if you care about your health and sleep. The same goes for privacy reasons. Blackout Roman shades do more than darken the room. They also prevent people on the outside from peering inside through the windows. Our room darkening Roman shades come in different levels of opacity, ranging from mild all the way to complete blackout.
Danville's Best Sheer Roman Shade Options
Now, on the flip side of this coin comes the translucent variety. With sheer Roman shades, you can make the most out of the sun throughout the day. And without exposing yourself and your wallpaper and furniture to harsh UV rays. Sheer Roman shades will diffuse and soften the sunlight. This makes it easy to use it to illuminate your indoor areas without suffering from the negative aspects of direct sunlight exposure. The sheer window covering options has become increasingly popular over the years. You can find sheer Roman shades in many Bay Area kitchens, living rooms, and even office spaces.
Smart Roman Shades With Remote Controls
Motorizing window covers became a staple for the blinds industry in the past decade. The ability to remote control things like motorized Roman shades only enhances the utility such covers offer to your home or office windows. With smart motorized Roman shades, you can replace the classic remote control handset with your personal smartphone. Utilizing Somfy and Lutron blinds motorization products now allows us to install electric Roman shades that you connect to via Wi-Fi and control from anywhere.
Custom Roman Shades For Danville and Nearby
When you find yourself needing to cover windows, skylights or glass doors, and want to choose something with style and elegance, give Danville Blinds & Shades a call. Our wide and varied selection of Roman shades for homes and offices lets customers pick custom-sized covers in a myriad of stylish designs. Contact us to book a free consultation appointment on any window covering options you're interested in.