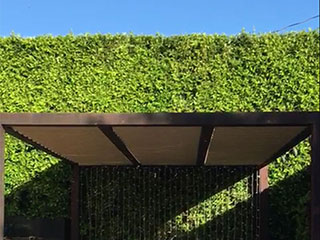 Adding covers for outdoor shade structures enhances the aesthetic but also provides a more comfortable lounge area. With motorized pergola screens and canopies, you can control how much sunlight shines down on you, thus enabling protection from UV rays and hot blazes even at high noon.
Awnings For Patios
To improve the ability of a patio area to provide shade, motorized awnings offer an excellent extension of the main canopy. With awnings, you can expand the shaded area and also protect yourself from harsh sunlight at a lower angle. Motorized awnings are a great addition to Danville patios that look to offer the most convenient outdoor lounge space.
Pergola Screens, Rolling Canopies
Combining shade from above and extra protection from the sides, motorized pergola canopy, and rolling screens give you a 360 range of shade. Motorized pergola screens also enhance privacy, blocking or limiting visibility from the surroundings. With opaque or sheer pergola screens, you can either block or diffuse sunlight and enjoy a cooler, shaded pergola hospitable at all times.
Danville Motorized Patio Covers – Best Options Near You
With affordable prices and custom made outdoor shade solutions, our remote control patio covers have something to offer all nearby backyard and porch areas. Our expert Danville patio cover installers can provide in-depth consultation and no-cost estimates at your local residence or in a workplace whose exterior you want to upgrade. Interesting in more information? Get in contact with our team for free estimates on the best local patio coverings!