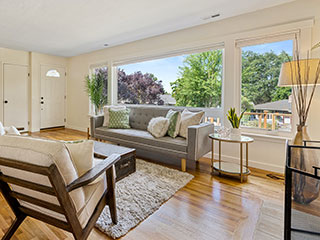 Most new sets of window blinds in recent times are often motorized. While remote-controlled blinds have existed for as long as most of us have been alive, modern technology has changed them a lot! Motorized window blinds are both cheaper and more useful than ever before, and do a lot more for you than just adding a little convenience. Our made-to-measure electric window blinds come in a wide range of styles and structures, as well as motorized control methods and special features. You can get custom made motorized blinds for Danville or nearby areas at the lowest costs. And with a free in-person consultation, you can see all the design choices and remote control features available. From motorized draperies to window shutters and all sorts of other blinds. We have the perfect selection of automatic window treatments for businesses and homes.
Wired And Battery-Powered Motorized Blinds
Old fashioned motorized blinds have wall console or remote handset controls and are connected to the building's electrical system. Nowadays, many property owners prefer battery-powered motorized blinds that don't put any extra demands on the power grid or give them wires to deal with. More recently, we've come up with miniaturized solar panels that can go on your motorized blinds' slats and feed the system's battery. Solar-powered blinds make no demands of your power budget or household energy consumption. If your motorized blinds have a smart system integrated with their other controls, they can even save you money! With energy spending reduces, automatic window coverings provide more than new aesthetics. You can better control indoor climate with motorized cellular shades and blackout curtains, creating ideal settings with the push of a button.
Smart Control Systems For Motorized Window Blinds in Danville
Remote-controlled window blinds save you the trouble of walking across the room and pulling the cord. They also eliminate a child safety risk by letting you get rid of that cord altogether. Go a step further and equip your motorized blinds with a smart system, and you reap way more benefits on top of those! Put your blinds on a timer that adjusts them during the morning and evening, and you'll never have to worry about sun damage to your furniture or carpets again. Get a set of motorized blinds that open and close based on photosensor and thermostat readings, and you can even reduce your AC/heating bill. A lot of a building's unwanted heating and cooling happens through the windows. Smart motorized blinds with good insulation and light opacity can lower your power bills even without a solar cell!
Motorized Window Coverings – Styles And Structures
Window blinds with remote controls can look like just about anything, even before factoring in all the programming and motor options. If you have a long, relatively low window, vertical blinds on a sideways-sliding frame are the better fit. In a bedroom, you'll want blackout blinds or motorized curtains to keep out the light (these are also great places to mount those solar blinds!). If you have a larger building or office complex to equip, you might want to opt for the lightweight and inexpensive Venetian blinds style. Motorized window blinds for your Danville property can come in all of those styles. And we can adjust them to fit your frames and decorative tastes.
Get a Free Quote on Motorized Blinds Today!
You can talk to a local professional on motorized window treatments in your area and get a free estimate on a variety of options. Our motorized blinds are all custom craft and made to order. Before placing your order, take advantage of our free consultation services to help you decide what style, material, and hardware suit you best. You'll also get a quote on how much your motorized blinds will cost before ever having to hand over a cent! Call our local Danville motorized blinds installers today and ask about our inexpensive custom made covering solutions!