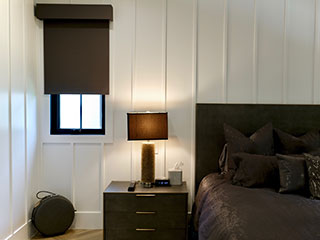 Some types of window blinds provide better solutions for certain spaces. In the case of blackout blinds, you can get the most out of them in rooms where you want absolutely max privacy and the ability to block all sunlight from entering. This includes bedrooms as well as TV rooms where you can draw the blackout blinds closed to watch movies with a nice atmosphere. While open, blackout window blinds will let sunlight into your Danville home much like other window coverings. But when closed, they will restrict the passage of light from the outside. Whether it's sunlight or streetlight, the blackout blinds will block is and allow you to sleep uninterrupted all through the night.
Best Blinds For Bedrooms?
There's a very strong argument to suggest that blackout blinds make for the top choice for Danville bedrooms. Given how important sleep is for general health and mood, it's important to have window blinds that blackout the room when you need to go to sleep. The presence of light, artificial or natural, hinders deep sleep, making you wake up periodically and end up groggy and tired for the rest of the day. However, with blackout blinds on your bedroom windows, you don't have to suffer this way. The room will remain dark even if the sun's up and it's midday already.
Can I Get Motorized Blackout Blinds
Certainly. The many benefits of blackout window blinds will not disappoint in motorized form. Having the option to draw the blinds open or closed with the push of a button adds a great deal of convenience to your day to day routines. You can even get motorized blinds that you can program to open and close automatically at certain hours. This form of automatic room darkening window coverings offers tremendous lifestyle benefits to both residential and commercial properties.
Are Blackout Window Blinds Better Than Blackout Curtains?
That truly does depend on a few factors. Are you looking for a more stylish and decorative window covering option to add to your bedroom? If so, maybe blackout curtains will provide a better solution for you. Room darkening draperies offer wonderful designs to add aesthetic touches to windows and rooms in general. Blackout blinds provide a much more easily adjustable variation, with a lot more nuisance in their abilities. Blackout draperies move laterally across the curtain rods, thus they always expose some full section of the window. Blackout blinds with overlapping vanes can let some sunlight in, but never fully from top to bottom.
Local Source For Blackout Blinds Near Danville
Go ahead and get in touch with our specialized team to start looking at options regarding blackout window treatments for any property in the nearby area. With excellent material and design selections, we can accommodate all sorts of décors at affordable costs. All of our blinds are custom made in the US, so you're supporting the local economy too. This includes motorized blackout window blinds with smart Somfy remotes and features. So call today to schedule your completely free estimate appointment on blackout blinds or other coverings.